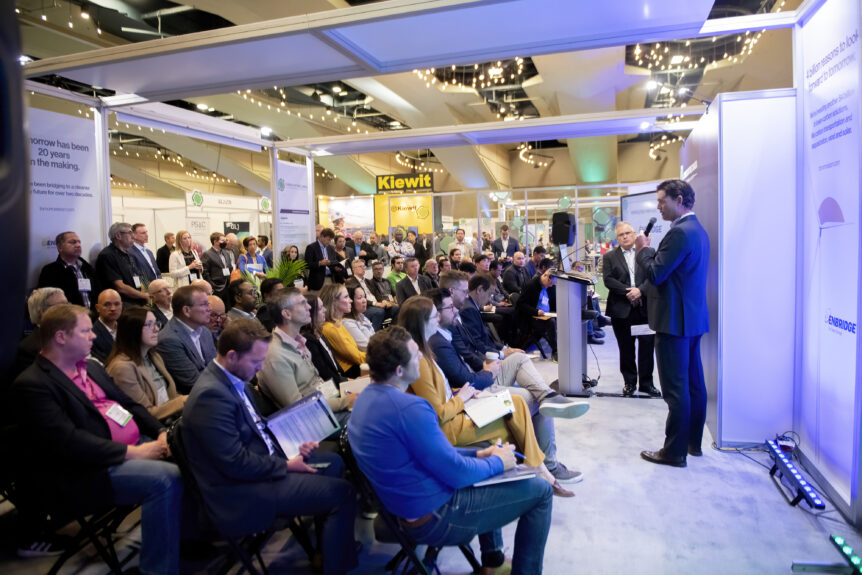 Blog #4 – Who knew a $50 tradeshow ticket could give so much value?
Last month I had the opportunity to attend the Carbon Capture Canada conference taking place at the Edmonton Convention Centre.
This relatively new sub-sector of excellence for Alberta came onto my radar in a big way while trying to secure an event around Carbon Capture, Storage and Utilization, or CCUS, while I was with Explore Edmonton. As I work for another client with a vested interest in Canada's incredible and almost untapped opportunity for carbon capture and underground storage innovation, technology, and global investment opportunities, it is time to get more immersed in science.
To flourish in a business development role in meetings and conventions for a DMO (Destination Marketing Organization) or CVB (Convention Bureau), you need to know a good amount about your destination's sub-sectors of excellence. I'm not saying we need to become experts, but we must put the work in to understand the basics.
The good old days of reaching out to associations and corporate event organizers who a) rotate events into your geographic region, b) fit your sweet spot of meeting space facilities and c) who haven't been to your city in a while are no longer the formula for success. This aptly named 'spray and pray' approach is long gone for good reason.
More now than ever, I believe business development professionals need to get educated to speak to potential event hosts with subject matter knowledge and confidence. The 'Why' an event should consider meeting in your destination is now made up of components such as:
What your knowledge capital on the subject looks like – the makeup of your academia.
Who is your corporation base working in the field?
Who are your up-and-coming Startups, scale-ups and accelerators in the ecosystem?
What innovations have originated out of this network in your destination?
How can the above be weaved into an event agenda, taking the education from within the conference center and into the host destination's working habitat?
With these principles in mind, I started my CCUS quest for knowledge and found the Carbon Capture Canada designed to deliver.
At first, when booking my tradeshow ticket a couple of months earlier, I was wondering if the $50 tradeshow ticket versus the complete conference access pass would be enough for my needs. Luckily for me, a novice in this topic area, DMG had introduced a very interactive tradeshow design. On both days of the show, the tradeshow consisted of traditional-style booths, with representatives ready and willing to chat about their products and services. I find there's nothing quite like face-to-face conversations and exchanging business cards to get the prospecting juices flowing. However, as good as this is, it doesn't always give you the basic facts about a general subject. This is where the Knowledge Bars came into their own.
What is a knowledge bar?
A knowledge bar is where exhibition visitors and conference delegates will be able to learn about the latest CCUS technologies and processes from industry leaders in presentation format.
Knowledge Bars will be located directly on the exhibition floor, in four convenient locations with sessions scheduled on both days of the exhibition. Each knowledge bar will cover a specific theme which will include but not limited to carbon capture, storage, transportation, and utilization.
What is the format?
Presenters will be given a 45-minute time slot with the presentation itself set for 30 minutes along with 15 minutes set aside for Q&A. Each knowledge bar will be equipped with the appropriate equipment for a presentation (laptop, podium, projector, microphone etc).
There you have it for a mere $50; I was immersed in CCUS education at all depths of technical discussion in a continual smorgasbord of delights. My only complaint is that I needed to split myself into two to control my FOMO on missing my second choice presentation while attending my first selection.
The concept worked brilliantly for my purposes, and the intimate setting gave me the confidence to ask questions I would never have raised in a packed conference plenary.
So my top tip for a prospecting inspiration, look into the next conference on a subject matter that you need to get up to speed on and see if there's a trade show-only ticket option. It's worth the financial investment and your time. Happy prospecting.
Some Quick CCUS facts I learned:
Canada has some of the highest CO2 emissions per capita in the world.
CCUS technology started in 1972.
Alberta is well positioned geographically above western Canada's aquifer belt, providing capacity for carbon capture for approximately 320 years.