Blog #6 – What do you call a job that feels like a vacation?
I believe in my naïve teenage years, I was drawn to a career in tourism because I loved the feelings travel created in me. I thought if I could work every day to help others to capture what I felt whenever I travelled, it would never feel like a day of work in my life. So, I set out, determined to help others feel the addictive 'tingle' of renewal and transformation only achieved through the power of Travel.
Don't get me wrong, there have been times when my work has felt stressful and challenging, but looking back, I was not that far wrong with my prediction. Working in this dynamic, influential and exciting industry has afforded me many once-in-a-lifetime opportunities and inspired a rich career of non-stop learning and growth that I continue to share with others.
Why am I suddenly reminiscing about my career in Travel and Tourism, you may ask?
It's all down to an article published by Lufthansa Innovation Hub and shared by my new contact Matthias Schultze. These bold headlines caught the eye of this business event and travel-obsessed girl:
"We don't believe business and leisure travel will ever return as we once knew them. Instead, an entirely new travel category is emerging, one that will impact post-pandemic travel behaviours, such as we have never seen before. We coin this new category "Blurred Travel," a term describing the increasingly blurred lines between leisure vacations and professional work trips."1
As someone who is always closely watching travel trends and has experienced a 180-degree switch in my own work habits in the past year, the term 'Blurred Travel' resonates soundly with me.
The article states, 'Blurred Travel has emerged firstly as a result of the widespread implementation of work-from-home and flexible working policies that came with the COVID-19 pandemic. And secondly, people's thirst for Travel has been on the rise after a long period of lockdowns and travel restrictions. Now, travellers want to make up for lost time and explore the world.'
If Travel credits are a thing, many of us have an overflowing piggy bank right now.
In summary, Blurred Travel includes several travel use cases in which travellers have both business and leisure needs, given their private and professional lives blurring together in a single trip. In addition to this new term for the Lexicon, the Lufthansa Innovation Hub outline five sub-categories of travel motivation, helping to distill this trend down a little further.
Staycations involve the exploration of one's own city or region as opposed to Travel abroad. This could include booking local rental or hotel accommodation and/or indulging in nearby spas, bars, and restaurants.
Travel2Work happens when people move out of proximity to their office to a remote location or one near to their social circles. As a result, people must commute to the office, which might be for one or several days, and include overnight stays during the work week.
Digital Nomadism is a lifestyle that describes how people temporarily move to another country for a duration longer than most leisure trips, usually for several months. The destination becomes an individual's second home and is a place where they live, explore, socialize and work.
Bleisure is a business trip where travellers extend their stay at the business destination for a couple of days for leisure purposes. This phenomenon was quite present prior to the pandemic. For example, if a person travels to a conference, after the event, they can add a few additional days to their itinerary and explore local attractions.
Workcations are trips involving temporary moves to different locations from which people can work and engage in vacation activities. Many of these destinations are often leisure destinations. During the day, people work but during evenings and on weekends, they can still enjoy new cultures, languages, foods, climates, and experiences, ones they usually take standalone trips for.
Although some of these terms aren't new, the frequency with which they come into our social circles is new. I'm sure we can all identify at least a handful of connections frequenting a Blurred Travel space these days.
I, for one, had the unexpected pleasure of a fun-packed 'Staycation' weekend when a remote-based colleague came to Edmonton for a 'Workcation' recently. Our colleague hatched her workcation by arriving in Edmonton three days early and staying in a different accommodation style and location than her usual work-related choices. This inspired move opened up an opportunity for a bunch of Edmontonians to vacation in our own city, exploring, experiencing and spreading economic impact that would otherwise not have occurred.
And what a weekend it was!
In glorious fall sunshine, we embarked on the most incredible Chef Table Living food bike tour, led by our fearless leader Vanessa Ojeda with her Latin theme music pumping. We rode 25 km through golden leafy West neighbourhoods, above the stunning river valley, into the ravine, and across the beautiful new Tawatina bridge to Whyte Avenue – on our quest for locally owned and inspired restaurants. Vanessa cares deeply about her hard-working food industry partners, and that sentiment seeps into every part of the tour. She expertly weaves an experience packed with unique Edmonton offerings as she draws out authentic proprietor-origin stories. We all know how powerful it is to understand a product's origin and gain a behind-the-scenes look at the dream. We left the day with a warm glow from a day spent with old friends, indulging in delicious dishes and proudly boasting four new stamps in Our Chef Table Living passports. In my opinion, you can't beat healthy activity to work up an appetite, combined with taste satisfaction at every stop and a new selection of gems to brag about to your foodie friends.
How could we top day one? There's nothing like a shopping tour where the choice of options blows a traveller's mind, and the 5% tax rate sweetens every purchase. But retail therapy isn't the pinnacle of day two. No staycation or workcation would be complete without a splurge. Enter a fabulous French-cuisine meal on the perfectly Parisian-inspired rooftop terrace of La Petite Iza. Complete with its art nouveau stained glass decor overlooking the shining brilliance of the Walterdale Bridge and downtown skyline, I felt a new appreciation for my home.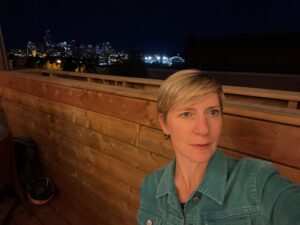 "A change really is as good as rest!" Blurred Travel is just the change we have all been yearning for.
1 Blurred Travel: Redefining classic travel categories. By Tran Dieu Ly